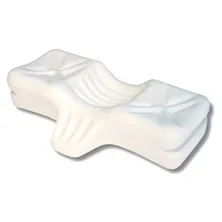 This pillow doesn't look like what you would expect – that's because it was designed by an Ergonomic Designer in consultation with a Doctor of Chiropractic. The goal to a sound sleep is 'Spinal Alignment'. Because you sleep on your back, side, or both, this pillow was created to work for each sleeping position. The ergonomic design offers correct support and stability in sleeping posture. The result is a more sound sleep and less tendency to wake with pain, stiffness and many of the symptoms resulting from lack of support.
Five sizes for a custom fit
Five-year warranty not to lose shape or resilience
Comes with a free-fitted polyester/cotton machine washable zippered pillow cover
Child, Petite and Average fit into a standard pillow case. Large and X-Large a king-size pillow case
Made of non-allergenic, non-toxic foam that can be recycled where applicable
Not only an investment in a pillow, but an investment in your future health.
Why Therapeutica:
Sleep is fundamental in all our lives. Sleeping is not a luxury, but a physiological necessity. Our physical and emotional equilibrium depends greatly on this function. A good night's sleep has therapeutic benefits: stress and blood pressure are reduced, cellular damage is repaired, risk factors for disease, obesity and depression may be reduced. Mood, memory and concentration are improved and some believe you can even increase your lifespan. Deep and Rem (rapid eye movement) sleep are the two most vital stages of sleep. Creating the right environment for sleeping will maximize the benefits received from deep and Rem sleep. The correct pillow is an essential factor of your sleeping environment. Your pillow needs to provide support and comfort in the correct size when either back or side sleeping. The Therapeutica pillow has been designed to provide the utmost comfort and support, helping you to achieve the maximum benefit from a good night's sleep.
Qualities for the right sleep:
The Right Pillow
The Therapeutica sleeping pillow is the only pillow designed to let you sleep comfortably, on your back and on your side, in the correct spinal alignment.
The Right Support
Changing your sleeping position requires different support. That's why the Therapeutica sleeping pillow gives distinctly different support for back and side sleeping. It provides back and neck therapy while you sleep, relieving stress and relaxing muscles.
The Right Alignment
Almost any daily activity can put your spine out of alignment. From working at a computer to washing your hair, shopping, golfing, lifting, bending, carrying, even driving. That's why the Therapeutica Sleeping Pillow is designed to give you corrective therapy while you are sleeping.
The Right Size
As individuals we are not one size fits all. To offer the correct support for both side and back sleeping requires considering a person's dimensions. The Therapeutica sleeping pillow has been designed to use a shoulder measurement to determine size. The sleeping pillow is available in five sizes to allow for a custom fit.
Side Sleeping Therapy
For side sleeping therapy, the 'Side Sections' are higher to accommodate your shoulder properly and contoured to rest your head and neck comfortably in a natural position that allows correct spinal alignment. Pressure is minimized and stress is reduced from every contact surface of your head, neck and shoulder.
Back Sleeping Therapy
For back sleeping therapy, the 'Wedge Extension' provides upper back support. The 'Cervical Contour' provides correct neck support. And the 'Center Cavity' cradles your head. Altogether, maintaining correct spinal alignment. This support aids in the relief and prevention of neck and upper back pain.
Therapy for Snoring
The design of The Therapeutica Sleeping Pillow prevents your head from being pushed forward while sleeping on your back and this helps reduce snoring by aiding in keeping critical air passages open.
Therapy for your Skin
There is a direct connection between how you sleep and wrinkles. Many dermatologists believe when sleeping facedown on a pillow or primarily on one side, body weight and gravity will cause creases in your skin. These diagonal lines found from your forehead to your chin are called "sleep crush". By sleeping on your back these "sleep crush" lines are reversible. When back sleeping the design of the Therapeutica pillow aids in the ability to sleep on your back. (see excerpt from Katie Rodan, M.D. and Kathy Fields, M.D. book "Write your skin a prescription for change")